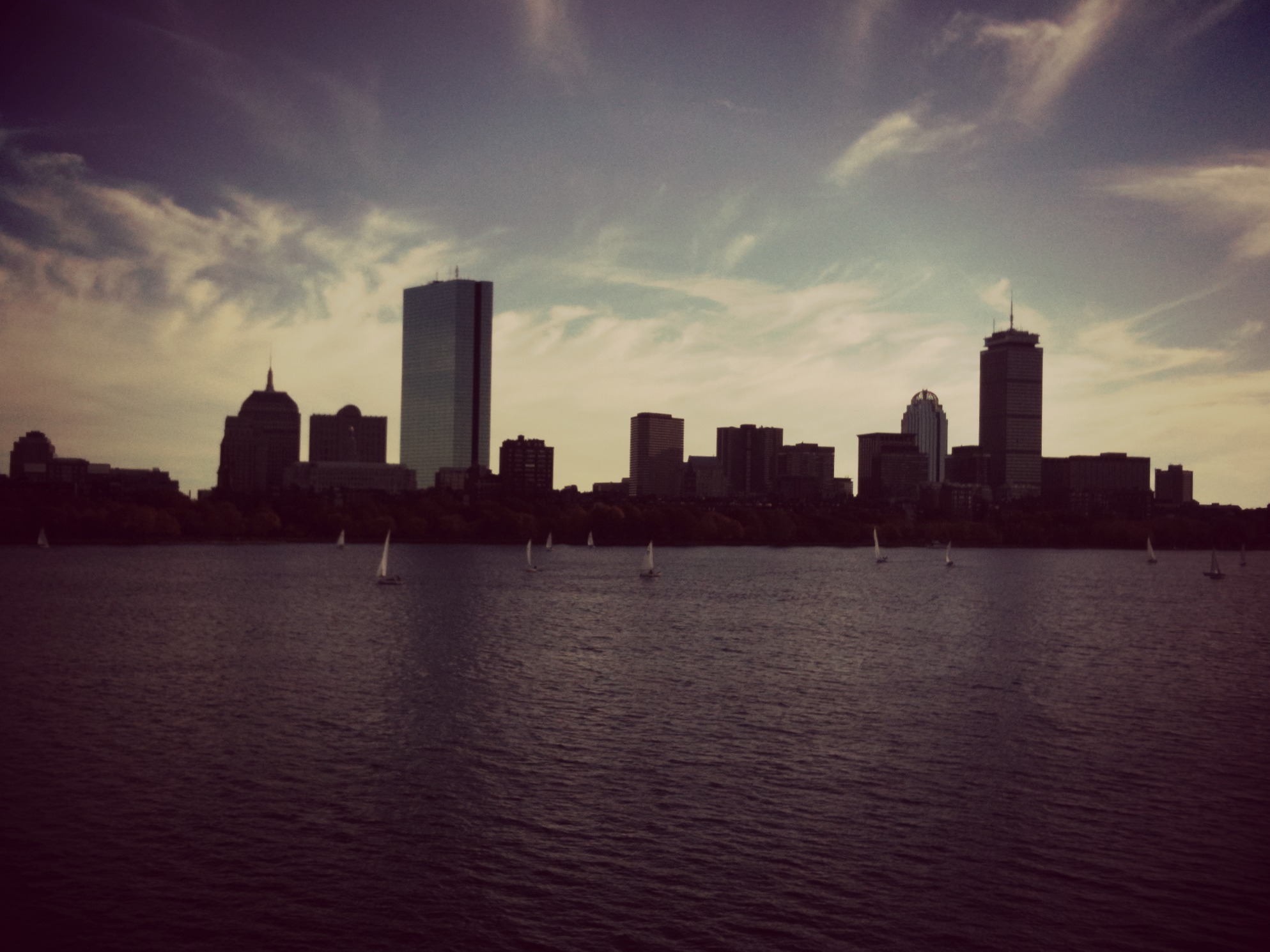 I have not been able to get myself to post this week after Monday's terrible bombings at the Boston Marathon.  I hope to return to regular posting next week, but I'm still in process of shaking off the dark cloud over me as I have tried to process how something so tragic could happen on one of Boston's finest days.
Each year as a college student in Boston, one of my favorite memories was watching the marathon race by my school on Patriot's Day.  It was such a happy day for everyone involved and I have felt a twinge of sadness each year that I have not been able to leisurely watch the race from the sidelines.  Even when I worked in the Back Bay a block away from the finish line, but had to be in my office for most of the day, I still enjoyed soaking in the city's atmosphere of a marathon day.  I muttered under my breath about the tourists impeding my commute on days leading up to the marathon, but I secretly loved crossing the empty finish line when I got out of work for the day.
I had been texting and laughing with my husband earlier on Monday about some funny memories of Marathon Monday during our senior year.  Suddenly, he sent me a text to turn on the news because there were reports of a bombing at the marathon.  Seconds after I turned on the tv, the news showed footage of massive explosions hitting Boylston Street and I burst into tears.  It was shocking to see these images of the street I knew so well.
I had walked this same patch of Boylston Street hundreds, if not thousands, of times over the years and I feel like I know it like the back of my hand.  I walked this street to catch my bus home every evening.  I walked this street to run errands on my lunch break and grab a bite to eat.  I walked this street to meet up with my husband or friends after work to grab drinks or dinner.  I walked this street to buy my wedding dress.  I walked this street to ring in New Year's Eve. I walked this street to go catch a game at Fenway.   I walked this street with my newborn baby after taking him to his nearby pediatrician or baby class at the Prudential Center.
I've spent most of the week pouring over articles on the Internet and watching more the news on practically a non-stop basis.  My heart goes out to all the victims of these tragic bombings.  I'm filled with such sadness knowing that three of the victims will never be returning to their families.  I know it will be a long road to heal, but I hope we will be able to one day go on and enjoy our beautiful city and a joyous Marathon Monday once again.  In the meanwhile, I encourage you to contribute to The One Fund set up by the city of Boston to help the victims rebuild their lives.